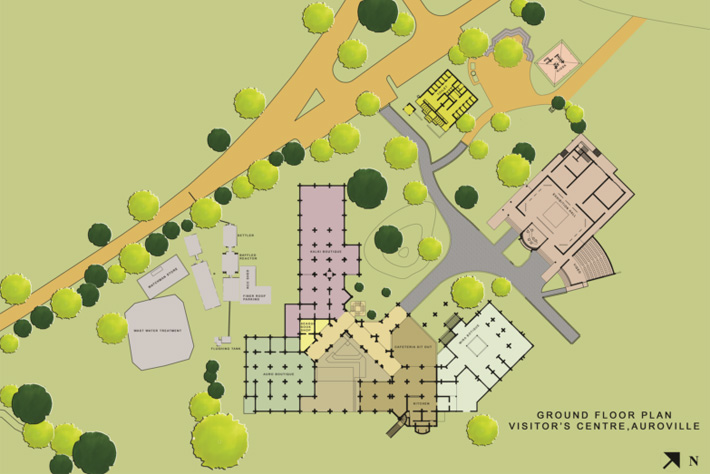 Visitors centre, Auroville
The core function of the centre is to inform the visitors about the purpose of Auroville, its spiritual and material aim with exhibitions and audio-visuals. The complex is also a demonstration centre for sustainable technologies such as appropriate building material and technologies, watershed management and landscaping with indigenous plants, renewable energies, wastewater recycling techniques etc.
The process of building this complex is used as a training exercise for the local villagers in soil block making, earth construction techniques such as arches and domes and ferrocement roofing techniques. This centre acts as an 'awareness and exposure centre on solar passive architecture and appropriate architecture' for students of Architecture. The project was started in 1988 and continues to grow; we keep adding more spaces and facilities to the centre as Auroville develops. Today it houses 2 large exhibition space that have interactive exhibitions, there is an audio-visual room to view short documentaries on the various activities within Auroville, there are 3 boutiques cum exhibition spaces for all the handicrafts that are produced within Auroville, 2 cafeterias that also sell the organic products from the Auroville farms. Along with all these facilities, we have galleries, book shops, open air walk through expo on green technologies and plant nurseries.The building has received the 'Hassan Fathy Award for Architecture' from Egypt in 1991 and has been nominated for the Aga Khan Award for Architecture in 1992.
Project list:
Experimental
Public (Education)
Public (Hospitality)
Public (Institutional)
Residential
Planning