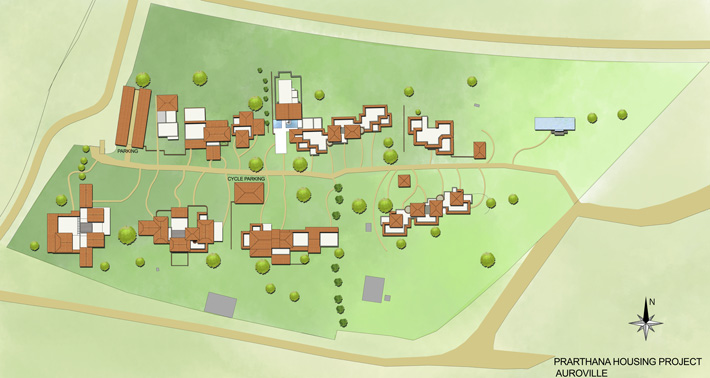 Prarthana Housing Project
This housing is laid out along a pedestrian street with a mixed development model of apartments &  row houses with a few single standing homes, making up a total of 40+ dwelling units. As the residents in this settlement are from very diverse national, cultural and economic background we decided not to follow the usual housing project pattern of typical designs of 1 /2/3 bedroom units; but work with developing a design language that could be interpreted and adapted to diverse lifestyles.
The building envelope design is contextual to the climate interpreted with local building materials. The volumes are a play of roofs in clay tiles, flat terraces and sit out verandahs. The layout allows for varied lifestyles from row houses with integrated gardens for families to studio & 2 BHK apartments for singles and couples. A balance of privacy with lively street life, as required by the European inhabitants,  is catered to by segregating the movement of the people from the vehicles, private greens and public spaces. Low traffic also allows for landscaping that is soft with minimum paved areas for better percolation of the rain water. Roof runoff is collected in swales for percolation and all the sewage (black and grey) is recycled using the only gravity flow biological process. It is re-used for the gardens.
Project list:
Experimental
Public (Education)
Public (Hospitality)
Public (Institutional)
Residential
Planning