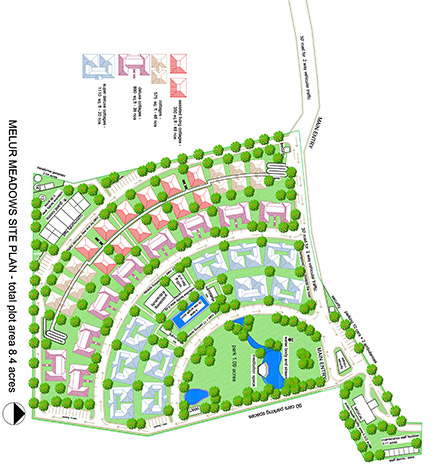 Melur Meadows Housing Project
Melur Meadows is a gated enclave of 150 cottages on a 9-acre site between Coimbatore and Ooty hill station. The layout of the project follows the natural contours of the site which is shaped like a bowl (like in an amphitheatre). There are 4 types of dwelling units on the terraces offering private and public green spaces; with the design of the cottages that allow for the maximum outdoor living to re-create the proverbial village. The common amenities include a spa, gym, business cum conference centre, central dining with multi-cuisine kitchen and a heath centre. Outdoor games and play area are also provided for badminton and petang.
Close by religious places and the green, serene surroundings make it an ideal place for meditation and spiritual pursuits. The central village plaza also provides for social gathering spaces for events and festivities. The project aims to be green in the use of reduced operational energy requirement with buildings being solar passive with alternative energy systems coupled with the local grid. All the waste water generated will be recycled on site to be reused in the landscaping. The rainwater is collected in an artificial pond created in the lowest point of the site, designed to have a water body with a meditation pavilion. This water body is the focal point of the housing layout.
Project list:
Experimental
Public (Education)
Public (Hospitality)
Public (Institutional)
Residential
Planning