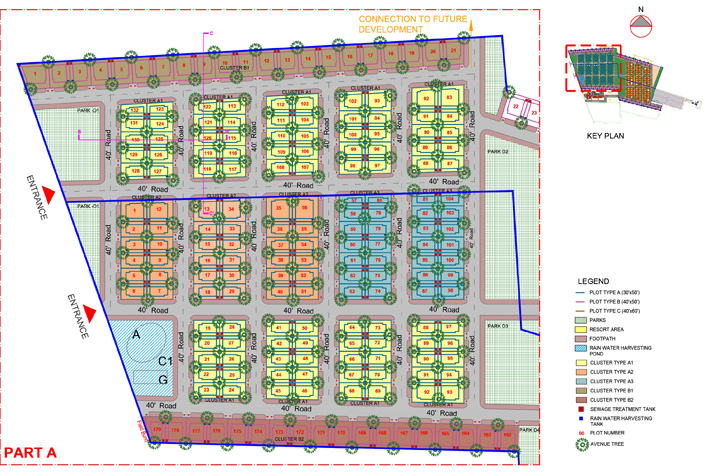 Celestial Eco Habitat
'Celestial eco-habitat' vision is more than green and sustainable; it is planned to create neighbourhoods to enable the families to get in touch with themselves and the community they live in. Where the human-nature connection is re-established for a balanced and harmonious life, simple building forms that are in synergy with the climate/culture and community nurturing a true expression of inner creativity! With over 400 plots that allow for several typologies of homes, the interconnection between the private and neighbourhood green space allows a free flow of people to get to use, enjoy and take ownership of the parks and gardens. The value of quietude will be cherished with traffic calming road design, avenue trees and a minimum of hard landscaping.
Water in all forms from the rain that falls from the sky to the water from the ground beneath, to the water that flows out of our homes all will be cherished. Rainwater will be collected with bio-swales to recharge the groundwater we depend on; while the wastewater from the homes will be recycled to be used for the collective gardens, avenue trees and curbside shrubs. Product and vendor information on water saving fixtures and appliance will be provided to the homeowners to make informed choices. The energy layout will allow for hybrid systems in homes for renewable energies like rooftop PV cells and solar water heaters. The external lighting (including street lights) will be solar. Product and vendor information on energy saving fixtures and appliance will be provided to the homeowners to make informed choices. The landscaping will be with indigenous trees/ shrubs and ground cover that flourish in the local climate while providing shelter to a rich biodiversity of birds. Learning from 'All waste is wealth' the household organic waste will be composted on site with garden waste to replenish the gardens and parks. The public amenities will be 'barrier free' to allow for children, elderly and the differently abled to feel welcome. Security is paramount and this will be ensured with appropriate fencing, gates and access for emergency vehicles.
Project list:
Experimental
Public (Education)
Public (Hospitality)
Public (Institutional)
Residential
Planning