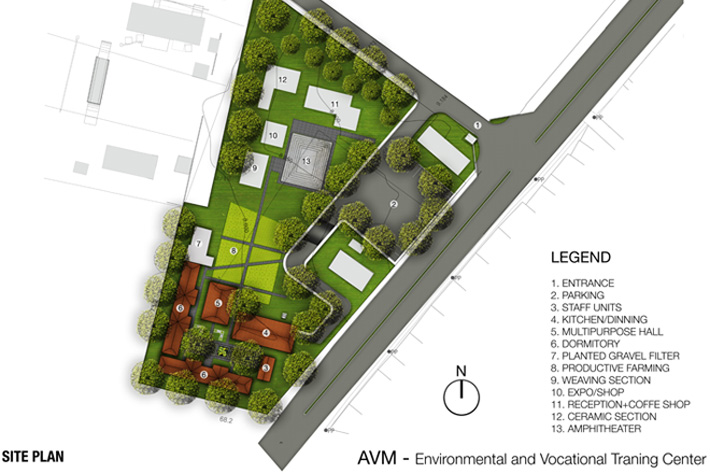 AVM Environmental and Vocational Training Centre
The design brief for the AVM Ramco Environmental and vocational training centre is to create an outpost in the peri-urban area of Chennai; a place for the school students of AVM school to learn organic farming practices along with other activities like sports and handicrafts. The centre is designed to be residential for an overnight stay during weekends and school holidays; giving predominantly urban children a taste of the rural. This would mean 32 students would live here with spaces for presentations and classroom discussions, dormitories and spaces for the staff. There is a kitchen and a dining space, all built around a courtyard where post-dinner discussions and entertainment could happen under the stars. Site planning and land use was done after site analysis for watershed for surface water management and erosion control, protection of top soil during the process of development, natural features, vegetation, climate, existing development including infrastructure, soil permeability and potential for micro-climatic variations.

The efficiency of land use was in minimizing the footprint of the building while allowing easy access to the landscaped spaces. The local by-laws and mandatory regulations were also addressed in the design. An environmentally suitable landscaping with a mix of urban agriculture and geo-climatically suitable flora was done. Easy and safe access to and within the site with full access for fire/emergency was provided along with age appropriate mobility and facilities inclusive of differently abled. Easy and convenient inter-linkages with the campus were given while avoiding duplication of spaces and functions. To avoid heat island effect coupled with run-off and flooding, minimum paved areas were given.

Building design principles:
Climatically suitable building envelope (shape/ orientation) for coastal tropical wet-dry climate, to reduce the operational energy use.
Low embodied energy building materials coupled with recycled materials. Use of easy renewable and local building materials.
Appropriate aperture design with controlled glazing to reduce heat intake and reduce cooling needs while modulating natural lighting conditions.
Active energy production(thermal and PV) with roof forms combined with roof shading to reduce the cooling needs.
Functionally convenient lifestyle interventions to maximise cost-benefit of electrical and electronic appliances by shared amenities.
Low power density and energy efficient appliances usage along with energy audit at concept design and pre-tender stage. Provide all residents with an online directory of BEE rated appliances with retail outlets and price list.
Protection against insects and pests.
Surface water management that is appropriate to the rainfall distribution pattern with water harvesting in various forms from recharge of aquifer/ open air water bodies/ swales/ holding tanks and pits.
Separate and manage different streams of rainwater – building roof and terraces, paved areas, parking and finally from natural streams and gullies.
Waste water recycling and re-use with a biologically safe system that is gravity flow with the solar powered distribution system for horticulture and food growing.
Provide for 2 separate water distribution system for re-use of recycled water for flushing if the cost-benefit ratio allows.
Minimize indoor water usage with low flow water fixtures.
Allow only draught resistant flora landscaping and vegetation and prevent any use of potable water for landscape.
Project list:
Experimental
Public (Education)
Public (Hospitality)
Public (Institutional)
Residential
Planning